INTRODUCING: THE SPARK COLLECTION
The Spark Collection is a true reflection of continual transformation. Many of the pieces in this collection reflect where we started with a number of newer pieces reflecting where we are headed.
This collection is an exploration of geometric shapes and bold color combinations.
EXPLORE THE COLLECTION
EXPLORE WHAT IS NEW FROM THE JUJU COLLECTION
The Juju Collection is filled with whimsical symbols from our childhood that bring back warm feelings of nostalgia and put a smile on our face.
Shop new symbols and lots of new pieces from our most whimsical collection - you are sure to find something you love with an explosion of color and a whole lot of sparkle.
EXPLORE THE COLLECTION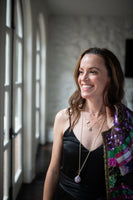 DESIGN SOMETHING CUSTOM
Work with me to design something completely custom & one-of-a-kind. Whether it is a custom engagement ring or breathing some fresh air into a family heirloom, I look forward to working with you.
Contact our concierge service, C+C Custom, to get started.
CONTACT US